Amidst the current cost of living crisis, Britain's largest supermarkets are facing calls for an investigation by the UK's competition watchdog over claims of profiteering. In April, food price inflation reached a record high, which added pressure on households throughout the country.
The leader of the Liberal Democrats, Ed Davey, has urged the Competition and Markets Authority (CMA) to investigate whether supermarkets and food multinationals are taking advantage of the situation. According to government data, food and drink prices increased by almost 20% in the year leading up to March, which is the fastest rate of annual growth since 1977. The analysis by the Lib Dems reveals that the cost of a typical weekly shop has risen by almost £12 or £604 in a year.
Although some large grocers have reported a decline in profits recently, experts suggest that more needs to be done to assist customers who are struggling with rising prices. Davey believes that it is essential to bring soaring food prices under control and offer relief to families by cracking down on profiteering by food multinationals and large supermarkets.
The UK's largest supermarkets have made billions of pounds in profits in the past year, drawing harsh criticism from union leaders who accuse supermarket bosses of gouging customers to benefit from "greedflation"—a term used to describe the exploitation of high inflation to generate excessive profits.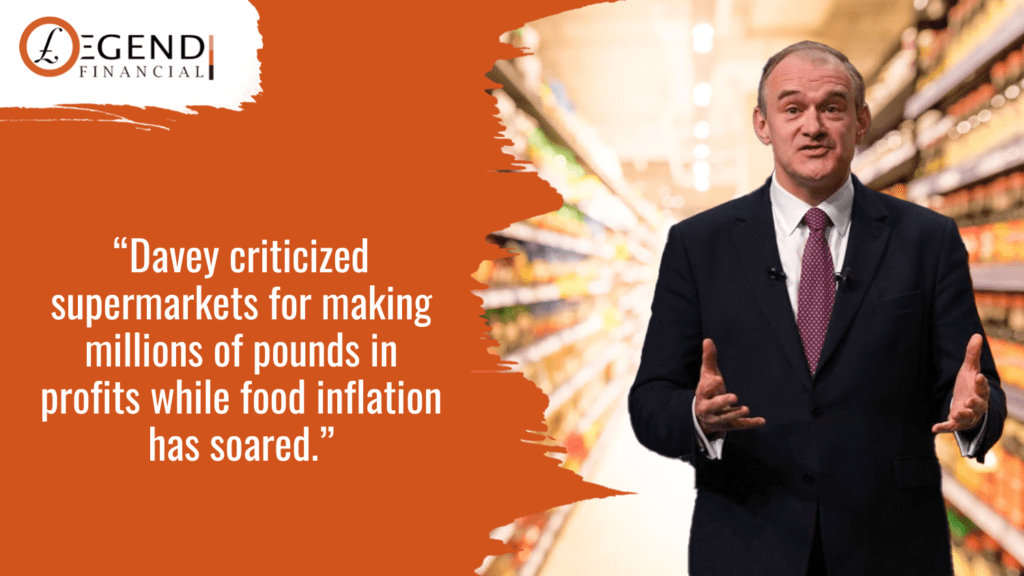 The Liberal Democrats have urged the Competition and Markets Authority (CMA) to investigate allegations that food producers and supermarkets are exploiting their market power to increase their profit margins and further raise prices. This request follows a similar investigation launched last year into petrol prices. Sainsbury's recently announced profits of £690 million for the year ending March 4th, surpassing expectations. Despite acknowledging a slip in profit margins from 3.4% to 2.99% due to rising costs, Sainsbury's CEO, Simon Roberts, insisted that the company was committed to fighting inflation for the benefit of customers.
Tesco also reported profits of £753 million, which is half the amount compared to the previous year. The retailer's CEO, Ken Murphy, claimed that the company was challenging every increase in costs with suppliers and had not passed on all additional costs to shoppers.
This call for an investigation coincides with data from the British Retail Consortium showing that food price inflation reached an all-time high in April, according to industry records. However, analysts suggest that costs may have peaked and should decrease in the upcoming months. The retail industry body's most recent report indicated that food price inflation rose to 15.7% in April, up from 15% in March. According to the British Retail Consortium (BRC), the price of ready-meals increased due to higher production and packaging costs, while the cost of coffee rose because of expensive beans and lower exports from major producers.
However, the prices of butter and vegetable oils started to decrease as retailers passed on cost savings from higher up the supply chain. BRC's Chief Executive, Helen Dickinson, predicted that grocery prices would begin to decrease in the coming months as wholesale price cuts and other cost pressures take effect.
The overall annual inflation rate for shop prices declined slightly from 8.9% in March to 8.8% in April, aided by spring sales for clothing, footwear, and furniture. Dickinson added that retailers were committed to helping their customers by keeping prices as low as possible.