Beginning on 4 April 2022, effective in Wales and England, the government requires tax checks on individuals, business partners, or those who operate through company structures that deal with taxis, private hires, or scrap metals when they renew or apply for the same kind of license (of expired validity or from other licensing authority).
Specifically, those who have to go through this prerequisite tax check include taxi drivers, private hire vehicle drivers, private hire vehicle operators, scrap metal collectors, and scrap metal sites.
Tax checks will need to be done every few years, completed by the individual himself, to make sure that taxpayers in the UK registered for tax, did so correctly, and paid their dues fairly.
First-time license applicants are exempt from tax checks as well as those holding licenses with expired validity for a year or more. They are only required to familiarize themselves with the HMRC guide on how they can properly do tax registration in the future and keep proof of that being done by themselves.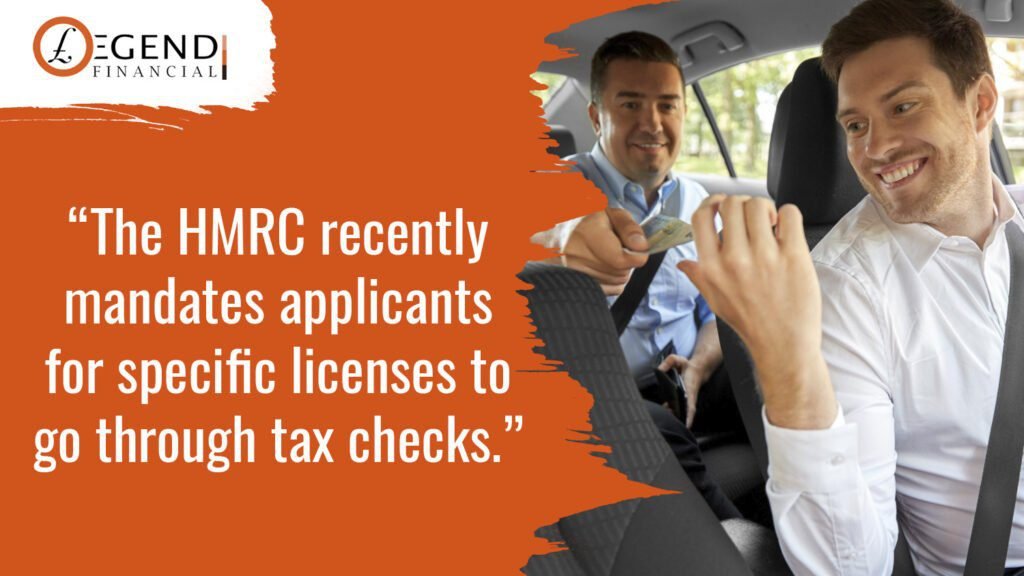 Given that the taxpayers have already registered their accurate employment status with HMRC—employed, self-employed, or operating through a limited company—it only takes a few minutes to complete the tax check.
Self-employed individuals pay income taxes through the PAYE framework, self-employed through self-assessment, and those working through a limited company through corporation tax. Once this is determined, the tax check comes next.
To streamline the process, HMRC works with several agencies and uses a digital service. The tax check, available online in GOV.UK, is carried out through the Government Gateway account, wherein the questions largely aim at determining how individuals pay taxes against the income they gain from their licensed trade.
After completing the tax check, they will be given a tax check code of 9 characters, effective only for 120 days, which should be submitted to the licensing authority alongside the application for license.
The same tax check code can be used for various applications for licenses, such that an individual applies for licenses for the same taxi driver role but that they are from some other licensing bodies. Separate tax checks apply to different kinds of licenses; for instance, getting licenses for a private hire driver and a private hire vehicle operator.
Anyone encountering issues with online tax checks should inform the licensing body immediately. In 5 days, they will be asked to re-access the digital service, but if they still cannot, that may mean they are not required to perform a tax check. But to be sure, they should inform the licensing body that they could not fulfil the tax check.
Tax checks may need to be done by the taxpayers themselves, but they may also seek third party assistance from tax professionals, so they can obtain thorough support for various matters regarding taxes, from registering their trade with HMRC to sorting their tax responsibilities out.
License applicants may turn to specialists in Legend Financial as they deal with taxation, accounting, and financial needs of an individual or business. Having served various clients on a wide range of tax concerns for a long time, their advice and support proves to be very reliable.
The government offers help now and then as well. The HMRC ensures that everyone gets their tax statuses right, so taxpayers can always contact the HMRC helpline when filling out the tax check questionnaires and get other forms of support.