Electric cars are a more environmentally beneficial option than using a diesel or gasoline engine. Working individuals can take part in this by reducing their tax payments through a Salary Sacrifice Car Scheme, which offers several tax and personal benefits savings for the employee who pays for their electric vehicle from their gross salary before tax.
Electric car salary sacrifice is a strategy to reduce the cost of operating an electric vehicle by forgoing a portion of an employee's gross salary. It means an employee can drive an electric automobile for less money than lease one using his or her taxable income.
The demand for electric vehicles has skyrocketed with the introduction of significant Benefit in Kind tax reductions for low-emission cars. For many users, an EV salary sacrifice programme can give substantial savings on income tax and National Insurance.
A benefit in kind, often known as an electric car benefit, will be taxed at its actual value (BIK). This represents the benefit a job holder obtains, such as the car. The tax rate for battery-powered electric vehicles is 1% in 2021–2022 and 2% in 2022–2023. This makes owning an electric vehicle incredibly affordable.
To sign up for a new car under an EV Salary Sacrifice Scheme as an employee, they should contact the company. The company will provide an employee with a list of available electric vehicles from which to choose. Everything an employee requires will be included with the automobile, including road tax, maintenance, spare tyres, auto insurance, etc. To power the car, all they need is the electricity supply.
Employees can choose a term of 24, 36, or 48 months to pay for the electric automobile of their choice in monthly instalments. Monthly gross salary (before any income tax or social security deductions) is used to pay for the service. An employee only pays income tax and national insurance on the amount left over after the cost of the car has been subtracted, which saves the money.
How can a company benefit from the scheme? 
A company can gain from providing this incredible perk by: 
Helping cutting greenhouse gas emissions to zero.
Effectively raising compensation to entice new hires and keep the best employees.
Increasing employee morale and assisting them in making overall motoring cost reductions of 30–60%.
Comparing EV salary sacrifice to typical PCP or PCH vehicle financing, it is relatively tough to understand which one of the greatest issues is. Companies must participate in a salary-sacrifice scheme. Their employees' monthly auto payments will be determined by their income and method of earning it, unlike a PCP or lease, where the monthly payment will be the same regardless of salary.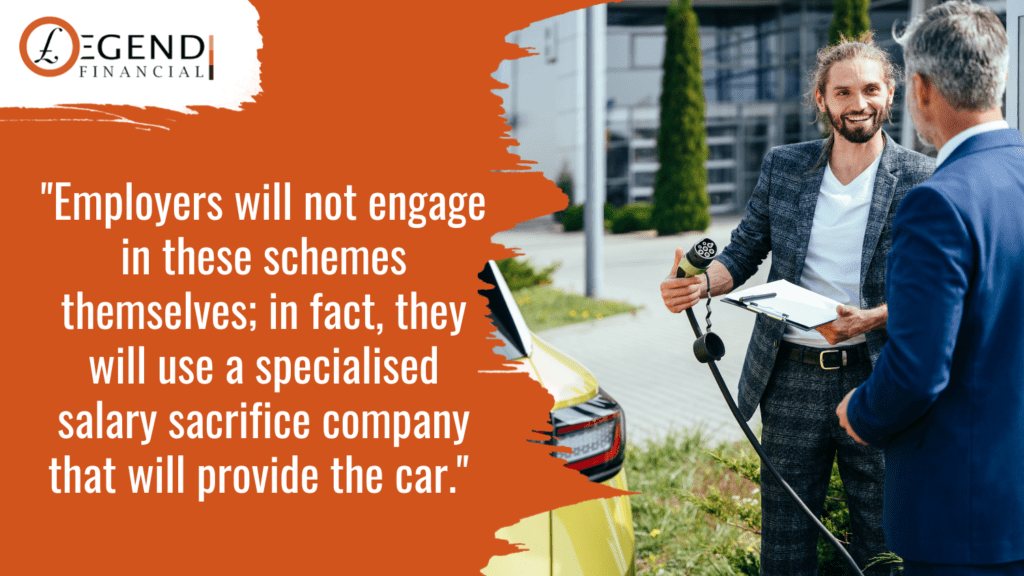 However, several recent startups have made considerable strides in explaining the expenses to potential clients and making it more straightforward for small businesses to join up for salary sacrifice programmes. Customers find it a highly advantageous way to move from petrol power to electricity, especially when combined with the tax savings associated with salary sacrifice for electric cars.
Legend Financial can help you set up the scheme for your staff members. We'll let you know about every catch in the scheme and offer error-free paperwork so you can finally start down the path to net zero.