The central bank is gradually raising interest rates as Britain undergoes significant change, including a new government and monarch, to prevent high inflation from spreading over the country's economy.
The Bank of England's nine-member rate-setting committee voting for higher hikes in the interest rate, concludes that the risks of enduring inflationary pressures outweighed the economy's immediate threats.
HMRC will modify its late payment interest rates as the Bank of England Monetary Policy Committee decided to raise the base rate by 0.5% to 2.25% from 1.75% on 22 September 2022. In response to the pound hitting a record low versus the US dollar, the Bank of England said that it will "not hesitate" to raise interest rates further.
The main taxes and duties that HMRC is now charging and paying interest on are subject to the following late payment and repayment interest rates:
Late payment interest rate — 4.75%
Repayment interest rate — 1.25%
These interest rate modifications for quarterly instalment payments and non-quarterly instalments payments will come into effect on 11 October 2022.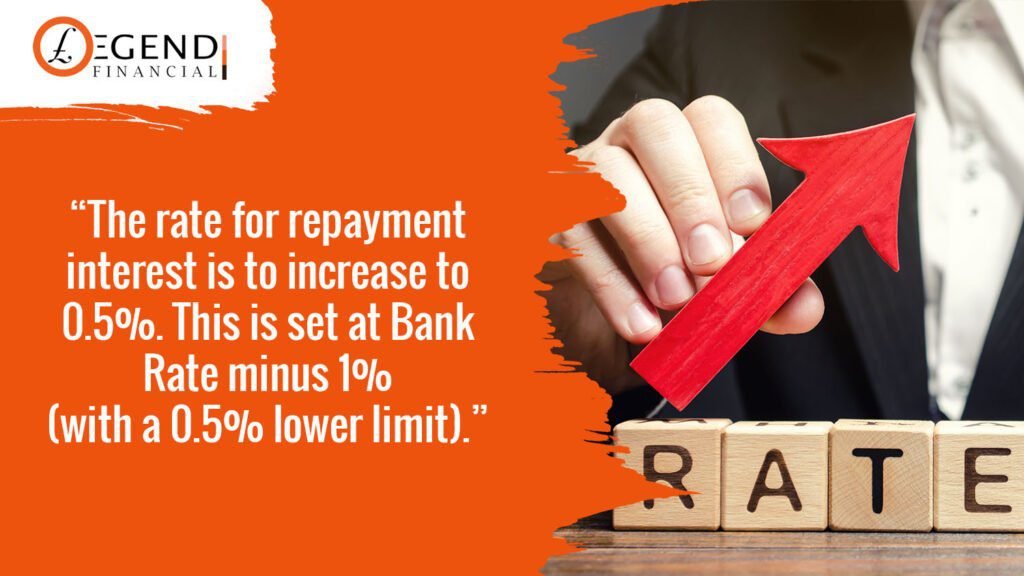 According to HMRC, the late payment interest rate promotes on-time payments. It guarantees equity for taxpayers who pay their taxes on time. When taxpayers overpay or pay early, the repayment interest rate reasonably minimises their diminished ability to spend their funds.
Since the cost of food and energy increased, consumer prices increased by 9.9 percent in August from a year earlier, dropping marginally from the previous month but still close to the sharpest inflation rate in four decades.
The rate increase will have a significant impact on small enterprises as well, particularly those who rely on banking or overdraft services.
For the rising inflation and impending recession to be adequately addressed, the most drastic choice should be made. Every now and then, Legend Financial offers financial and tax updates so you may stay up to speed with the newest information.