The UK's economic picture has become worrisome as the budget deadline draws nearer daily. Nevertheless, a glimmer of hope has been provided, which might allay some fears and position the public for a less-than-dire budget. In January, the government spent less than it received in taxes, making a surplus of £5.4 billion.
This year, a record number of returns were received, which gave the country this extra tax money. In light of the upcoming budget, economists said the statistics painted a "mixed picture," with the public finances still poorer than they were at this time last year. On March 15, Chancellor Jeremy Hunt will lay out his tax and expenditure proposals.
Despite official numbers showing an unexpected boost for the exchequer in January, Jeremy Hunt has argued that the government must find a way to give nurses and other public sector employees more significant wage raises in next month's budget.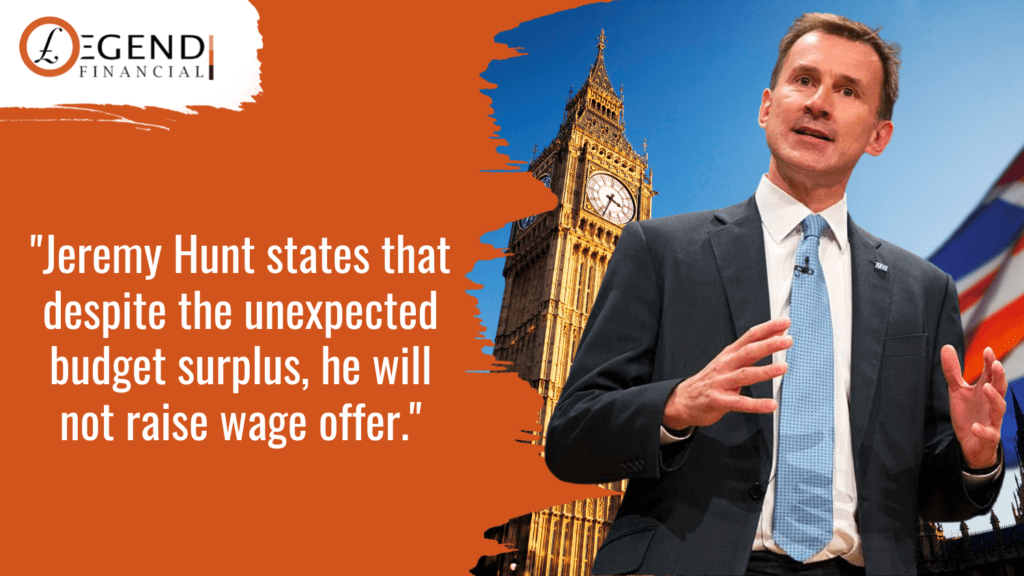 He told reporters that the "basic outlook" for the public purse was not altered when asked if the data made it harder to sustain the government's claim that larger pay raises are unaffordable. "What we see in today's data is not a recurrent shift in our national finances," he added. "Pay raises are recurrent and have a recurrent effect on the exchequer."
The findings give Mr Hunt "some positives to work on," according to Martin Beck, head economist for the UK economic forecasting group EY ITEM Club. According to Mr Beck, the government's spending on bill support "will be a fraction" of what was publicly anticipated last year due to the decline in wholesale energy costs.
But he noted that short-term changes in the UK's finances "don't have much influence" on policy because the government's self-imposed fiscal restrictions regarding debt apply to a five-year time horizon. The Office for Budget Responsibility (OBR), the government's official forecaster, had estimated that public borrowing would total £30.6 billion more for the entire financial year.
2021 was an outlier, as spending on coronavirus support was still relatively high. The government invests extensively in energy support programmes to keep household bills low. To put it in perspective, the ONS said the surplus was £5 billion higher than expected and £7.1 billion less than the same period in 2022.
A one-time payment to the EU for past customs charges offset the additional self-assessment receipts. Even if this is not a significant turning point for the nation, it could help lessen the damage and open the door for some milder budgetary measures. Time will tell. Follow our budget updates for any new information.