Investments, savings interest, and dividends are three closely related types of income concurrent with each other, and the tax amount is charged at their corresponding taxes. In tax treatment, the latter two may be considered under investment. These terms may be used interchangeably, but in this article about tax on investment income, anyone who pay tax in the UK will get to know their subtle differences, what kinds of tax they are charged, when they have to be paid, their personal allowance limit, and the tax amount they may need to pay. 
What Is Savings and Dividend Income?
Savings are the money a person can gain through interests, which may be obtained through banks, corporate bonds, gilts, building society accounts, National Savings & Investments (NS&I) products, local authority investments, permanent interest-bearing shares (Pibs), voluntarily purchased annuities, and open-ended investment companies (Oeics) or trusts.
"Savings gain income through interest whilst dividends are from shares of a company equity."
Dividends, on the other hand, are the income that taxpayer earns from buying shares and investment trusts in a company. All the shareholders get distributions from the company's net profit. The profit is calculated based on how many shares they have. 
Types of Savings and Investment Income to Earn From
Any top financial advice provider in the UK would recommend people to grow their funds in the form of savings interest, dividends, share-based stocks and shares ISA, bank bonds, pension, and other options of investment products, like open-ended investment companies (Oeics) and unit trusts, as they offer a lot of benefits. Depending on the product they choose, savings interest or investments may either be taxed or tax free. 
A great way to be tax free on these earnings is by putting a part of stocks and shares in tax-efficient National Savings and Investments options, which changes its offers from time to time. It offers both taxed and tax free options, so investors must mind all its details and updates to get the right option without paying tax and not suffering any losses. 
The two major tax planning options for National Savings & Investments include Individual Savings Accounts (ISA), formerly called Personal Equity Plan (PEP), and Junior ISA. ISA is typically for adults whilst Junior ISA is for children whose account is made by their parents or guardians on their behalf. 
ISA has four main various ways to guarantee that any income, sales of property, stocks and shares, pension, or dividends are tax free. Individuals may either choose to pay for a single Individual Savings Account or spread their saving cash amongst all the ISA offers, granted that the money they put in doesn't exceed the £20,000 starting rate for savings interest for each tax year. 
Tax-efficient investing allow UK residents to grow any fund through savings interest or investments without paying tax through the starting rate for savings allowance. 
How Does Tax on Investment Income Affect Investment?
When looking for investment options, it's essential to consider the tax they entail as it is something that can greatly affect how much return those who pay tax receives from their investment. 
Taxation regulations, such as regarding the personal allowance threshold, may vary in the years to come, so when investing, it might be a wise precautionary measure to check updated HMRC government website page regarding tax. On this case, investors may also want to use financial or tax advice to decide anything that is best for their circumstances and determine what type of tax they may have to pay for.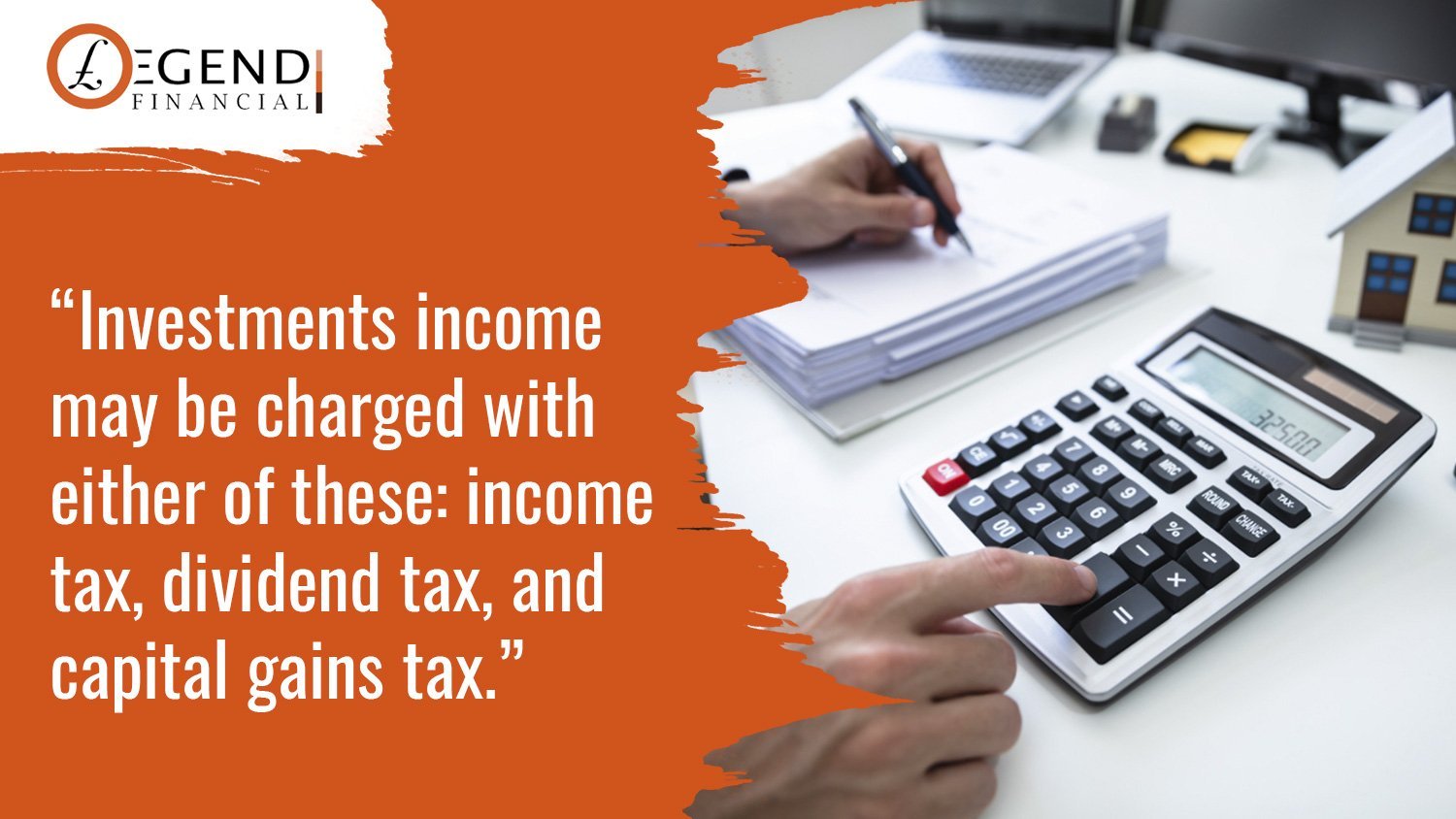 Generally, there are three kinds of taxes charged on investments with distinct rules, rates, personal allowance, and entitlements, and they may depend on certain circumstances, such as the way the investor obtains them and how much their returns are, all of which to be filed in   a self assessment tax return. Namely, they are income tax, dividend tax, capital gains tax (CGT), and/or stamp duty reserve tax (SDRT). 
Income tax on investment is imposed on interest, such as from savings income, dividends share, retirement pension, and peer-to-peer investments, given the fact that they are non-ISA. 
Dividend tax, on the other hand, is imposed on the income or dividend share obtained from taking part in some investments, for example stocks and shares ISA. 
CGT must be paid on the earnings one obtains from disposing of or selling certain assets from investments portfolio, such as shares or general investment account (GIA). 
Another type of tax to pay on property for home rental investments, excluding rental income, is stamp duty reserve tax (SDRT), with various terms according to the location the property is bought—whether England or Northern Ireland, Scotland, and Wales.  
Any of these tax greatly affects the return that savers or investors receive from their investment portfolio. Higher rate taxpayer, especially those investing in non-tax-efficient options, are usually imposed with hefty tax amount. 
Putting their savings interest or investments portfolio or pension in tax-efficient National Savings & Investments options, particularly ISAs, is a few of the top ways for trimming their taxable income aside from maximising the use of their personal savings allowance. For example, with ISA, additional rate taxpayer can get to keep up to £20,000 for themselves tax free. 
When Does Tax in Savings Interest and Investment Income Have to Be Paid?
Allowances apply to savings income and investments gains, endowed by the UK government to UK residents to encourage them to save and invest more. These are Personal Savings Allowance (PSA), Capital Gains Tax Allowance, and Dividend Allowance, all of which have different starting rate for savings, the latter to be discussed further in the article. 
"Allowances let taxpayers keep a certain extent of their income on a given threshold."
Each allowance has a tax free figure to a certain extent. When a person earns an income more than the starting rate for savings or personal savings allowance imposed per year, they will have to start paying tax for the excess income they receive. 
The rate of tax individuals is charged depends on which tax bracket they fall under. For the tax year 2021/22, a basic rate taxpayer has a personal allowance or tax free amount of £12,570 whilst higher-rate taxpayer is allowed to keep income when it is within the starting rate for savings—£50,270. 
CGT starting rate for savings, on the other hand, is £12,300 for the tax year 2021/22. This means those who pay tax can make many sales from their assets or GIA tax free before they start paying any CGT. 
How Much Tax to Pay in Savings Interest and Investments
As mentioned, once the return reaches beyond the tax free personal savings allowance, tax amount will have to be paid wherein the self-employed tax rate depends on which income tax band an individual falls under as well as what type of investment they are having. Please note that this doesn't include ISA and its equivalents as they are, in any way, tax-exempt and thus, will not need to be included in the tax return. 
Taxpayers may have to pay income tax or capital gains tax on property and savings income. A rule of thumb for income tax is that it is progressive, which means that the more someone earns, the more their tax amount will be.  
Please note that job salary and investment proceeds are calculated separately, so even if their job salary is less than their personal allowance, they are still subject to paying tax on their investment incomes.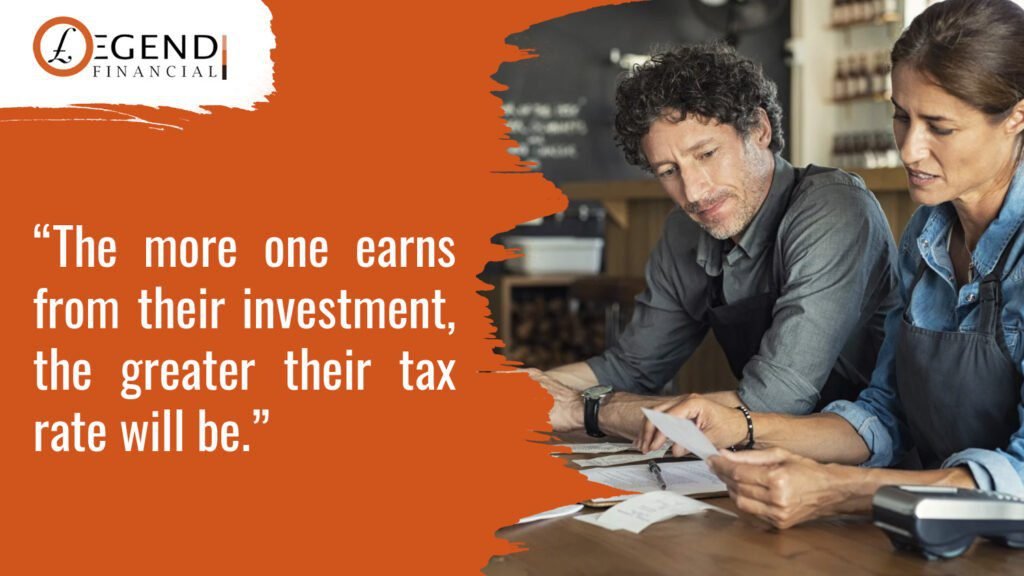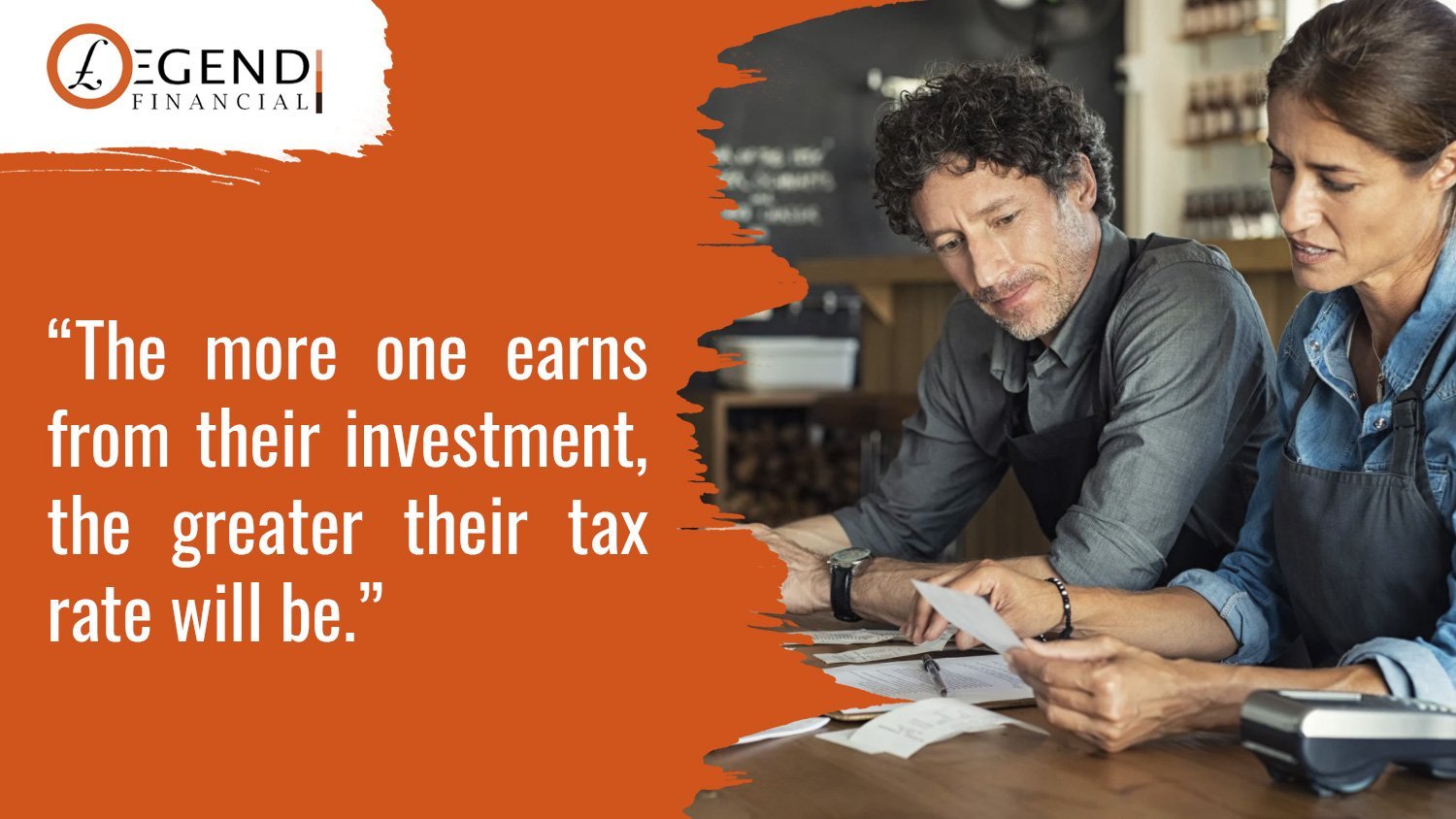 For the tax year 2021/22 and beyond, a basic rate taxpayer is obliged to pay tax at 20% for income between £12,570 and £50,270. Higher rate earners pay tax at 40% if their income is anything between £50,271 and £150,000. Additional rate taxpayer, on the other hand, need to pay tax at 45% when their income reaches more than £150,000. 
| Tax band | tax rate | Personal Savings Allowance (PSA) |
| --- | --- | --- |
| | | |
| | | |
| | | |
For the tax year 2021/22 and beyond, basic rate taxpayers are obliged to pay 20% of income tax for their earnings between £12,570 and £50,270. Higher rate earners pay 40% if their income is between £50,271 and £150,000. Additional rate earners, on the other hand, are obliged to pay 45% when their income exceeds £150,000.
It's a little different for CGT, which goes as follows: 
For CGT, profits are charged at 10% for the basic rate taxpayer whilst it's 20% for the higher rate taxpayers. For the additional rate taxpayer, the rate varies according to what they are selling. Gains from residential property are taxed at 28%, whilst for chargeable assets, it remains 20%. 
Stamp duty reserve tax, on the other hand, has differing stamp duty rates depending on where the property is purchased. England or Northern Ireland has stamp duty land tax; Scotland has Land and Buildings Transaction Tax (LBTT); Wales has Land Transaction Tax (LTT). Learn more about stamp duty tax rates. 
What Is Dividend Personal Savings Allowance?
Another means to trim tax liabilities for those who pay tax is taking advantage of dividend personal savings allowance. For the tax year 2021/22, the personal allowance is set at £2,000. The amount remains the same for the tax year 2022/23. Anyone who pay tax is tax free within the starting rate for savings and the limit per year. 
When Does Tax in Dividends Income Have to Be Paid?
One will need to pay income tax on their dividend share income once it exceeds the limits of dividend personal savings allowance, and as usual, depending on any income tax band. 
It's crucial to report to HMRC once their dividend income surpasses the personal allowance so that they can start filing their self assessment and pay any dues. 
How Much Tax Do You Need to Pay in Dividends?
For the tax years 2021/22 and 2022/23, the rate at which the tax bands are charged at is as follows: 
How Is Tax on Investments Calculated?
Tax on investments is derived from the level of personal savings allowance an individual is entitled to, their extent of income, and investment type. The capital gain and savings interest profit are added, then subtracted with any applicable deductions. 
Apparently, calculating tax on investment income and filing tax return can be complex. To get the most accurate value, you should use the help of professional tax advice. Beyond this article, Legend Financial is here to be your partner in working out all your potential tax liabilities and understanding your obligations better. Reach us today!