Tax hike has been happening since this April, although the government also enabled huge tax cuts for both the employed and self-employed to counter its effects. But alongside taking advantage of the tax cut, there are many other means on how to reduce income tax for self-employed.
For employees, their income tax is automatically deducted through the PAYE framework, but for the self-employed, income taxes are paid by submitting tax returns through annual self-assessments. And it shows that most of the self-employed in the UK put off this obligation until the last minute, which should not be because preparing for it ahead is the best way they can reduce their tax liabilities.
The tax returns submitted this fiscal year are actually for the previous, which means that those who are new at working around reducing their income taxes will only start to benefit from their efforts the next fiscal year. Preparing way ahead of time will not only help them reduce their taxes, but most importantly, it allows them to avoid any possible penalty.
This article shows how it is possible for the self-employed to decrease their income taxes legally through various means, which includes contributing to their pension, giving donations to charity, making use of tax-deductible expenses, offsetting annual losses, claiming previously overpaid taxes, and more.
Understanding Tax Reliefs
In the UK, tax reliefs are either automatically applied or claimed first. It may mean two ways for the taxpayer: either they pay less amount to the HMRC or get reimbursements, the most common form of which is through a personal pension or tax-deductible business expenses.
When filing the tax returns, self-employed individuals must check which types of relief they may be eligible for. They may ask HMRC regarding this or consult the tax professionals so they don't miss out on anything that could greatly curb their obligations.
Paying Into a Pension Scheme
A great way to reduce one's tax liabilities is to join and pay into a pension scheme. Tax reliefs on pensions allow taxpayers to secure some cash for their retirement years, which as of the present year, can be obtained at the age of 55. But not many people make the best out of their pension contribution reliefs than what they are entitled to.
The tax relief they get largely depends on which tax rate they're paying—the basic rate tax, higher rate tax, or additional rate tax—as well as the kind of pension scheme they're joining. The basic rate is 20%; the higher rate is 40%; the additional rate is 45%.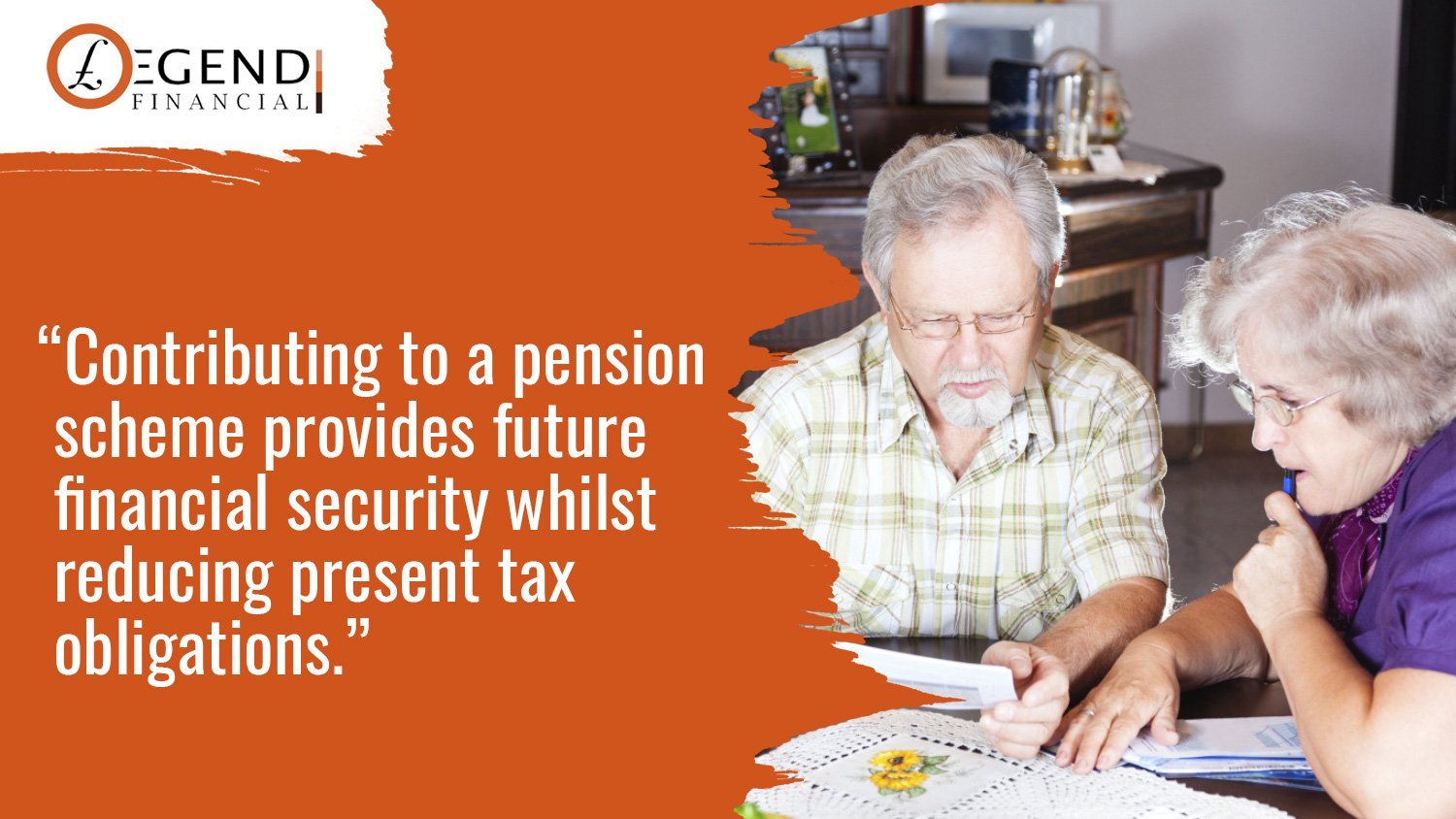 Take note that there are types of pension schemes that automatically apply the basic rate of tax relief, which is 20%, even if it should be higher, so one will have to claim for the additional rate through their tax returns, especially if they're higher earners. Hence, if the reliefs aren't applied automatically, they have to claim for the rest.
If they want to get higher tax returns, knowing they pay more than the basic rate, they need to list down the gross amount they contributed to their pension scheme when completing their self-assessment tax returns. Once their gross contributions are recorded, the HMRC then gives them tax relief by adding a certain percentage or top-up to their pension.
Donating to charity is another effective way to get tax relief, and it applies not just to income tax but also to capital gains tax depending on how the donation is given. It's a win-win situation for both the organization and the taxpayer.
The charity becomes better enabled for their good cause whilst the self-employed who earn higher and hence, pay a higher-rate tax, can get a relatively hefty tax relief when they start giving to charity.
Anyone who wants to curb their income tax for this fiscal year should be giving their donations before the 31st of January next year. There are four major ways that taxpayers can give to charity—either through gift aid, directly from their salary or pension, shares or property donations, or will.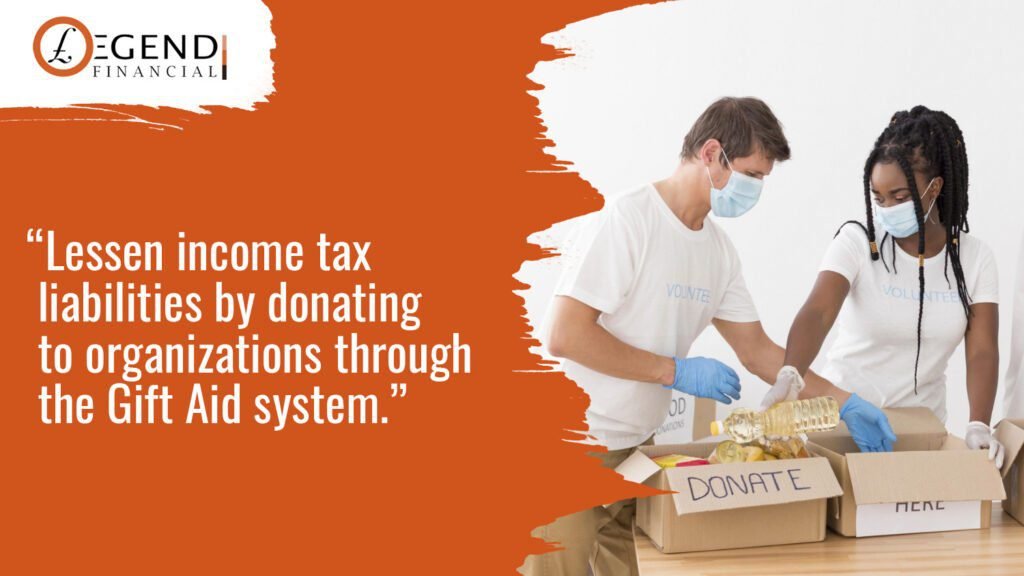 Most self-employed individuals who earn higher income consider Gift Aid as the most convenient means of donation, wherein they give either to an amateur sports club or charity. They only have to make sure that the organization they're donating to is authorized by the Financial Conduct Authority (FCA), which means they're already registered with the HMRC as part of the Gift Aid system.
Before giving donations, they have to make sure they declare to the organization that they are doing this through Gift Aid so the charity can reclaim some amount on their behalf as reported in their self-assessment tax return. But they can always reclaim tax relief by themselves too.
In the Gift Aid system, for every 1 pound that taxpayers offer to the charity, the charity could reclaim 25 pence for it. And one huge perk about donating through Gift Aid is that a person can claim tax relief on their donations not just on the previous fiscal year but up until the time they submitted their tax return if they just met the criteria.
If their donations are accepted in the Gift Aid system, it's guaranteed that the more they donate to the charity, the more they can claim for their tax relief. The rule of thumb is this—higher-rate taxpayers paying 40% of their taxes could claim 20% whilst additional rate taxpayers contributing 45% could get a tax relief of 25% from their donations.
They must talk to the organization more about this to clarify as to what extent they receive their tax relief or opt for the help of tax professionals to figure out just how much they can reclaim from their donations and what's the best way to donate that fits their situation.
Claiming Allowable Expenses and Any Extras
To trim their tax liabilities, self-employed individuals may want to dig further into what kinds of expenses they have allotted for their business are tax-deductible. These are allowable expenses that they can claim tax reliefs for to aid them with their operation costs.
Take note that no private or personal purchases are considered allowable expenses, only business-related ones essential to keep the business running. Expenses vary depending on the nature of the business, particularly where they operate—within office or at home—if they travel most often, and more.
"Business-related costs, especially if they're considered allowable expenses, can be deducted from their taxes."
Self-employed persons should be familiar with allowable expenses so they wouldn't exclude anything when completing their tax returns. Generally, they include the following:
Costs in the office (e.g., phone bills)
Costs of clothing (e.g., uniforms)
Costs in a work-from-home setup (e.g., lighting, water rates, heating)
Costs when working on the business' premises (e.g., cleaning, business rates, rent)
Costs related to paying the staff
Costs of the manufacturing materials
Costs of travel and accommodation
Costs of the business' financial matters (e.g., insurance)
Costs of upskilling (e.g., training courses)
Costs of marketing or advertising
When working remotely or at home, business expenses should not mix with personal ones. Usually, self-employed individuals remotely working in the UK designate a room or more specifically for the business. Or they would also base the cost on the number of hours they spent working at home.
Upskilling themselves or their employees is another practical way to lessen their tax bill, especially if they take business-relevant refresher or training courses vital to keep them updated and secure in their professional position.
Especially when they travel often for business, they must also list down the amount they spend on travel and accommodation, including their trips from one workplace to another and vehicle-related expenses such as petrol, maintenance, or insurance.
Take note that when the vehicle is also used for private purposes, documentation of their business mileage is necessary. Transportation-related allowable expenses don't include the mileage between their business premises and home, how much their vehicle costs, and meal expenses.
However, when the range of allowable expenses stops, capital allowances come in, which applies to those who still use traditional accounting. Capital allowances refer to the purchases fundamental to keeping the business running. These allowances cover how much the business spent for purchasing their vehicles, machinery, and equipment.
Claiming allowable and capital allowances can be hassling, but there's one easy option available for sole traders and business partners, and that is using simplified expenses wherein flat rates are worked out. It's better to work around these allowances with the help of tax professionals so taxpayers can claim the most inclusive tax relief on their business expenses.
Whether a sole trader, business partner, or business owner, self-employed individuals are bound to face loss from their trade at some point. This loss happens when their capital allowances and tax-adjusted expenses exceed their total profit for that fiscal year. Ultimately, for that accounting year, it is referred to as an annual loss.
A lot of trade has dealt with losses, especially during the pandemic, which has proven to be one of the toughest times for most. If for some other reason they're dealing with profit loss, they need to be aware of the various means to claim their tax relief and offset its effects.
"Make losses less painful by offsetting it in various ways."
If they just met certain criteria and reached a time limit, they can eligibly claim one of the means, the most common of which is getting a refund or a decrease of their income tax liabilities.
To determine how they can best claim relief for their annual losses—such as forwarding the loss to a more successful year, setting it on another taxable income, or backtracking it to the last year—opting for tax professionals' counsel can prove to be priceless. Professionals provide the most helpful advice on which means fits best in their situation.
Claiming Against the Last Tax Years
Overpaying taxes can always happen, so once taxpayers come across this kind of situation, they need to act on it right away so they can at least trim their tax obligations for the next fiscal year. The maximum number of years they can backtrack and claim any surplus paid taxes for is four fiscal years.
Taxpayers must note any errors in the last tax returns they submitted, then inform the HMRC about it so they can start requesting the "overpayment relief" of their surplus tax upon completing their self-assessment tax returns.
They need to provide signed evidence for the surplus payment to declare the truthfulness of their claim then choose how they want to receive the reimbursement.
Reducing Income Tax for Self-Employed with the Help of Tax Professionals
Next year's tax liabilities would be less burdensome for taxpayers when they prepare their self-assessments way ahead of time and most especially with the help of tax professionals. Listed above are just a few amongst many other means to lessen their tax liabilities.
Legend Financial provides expert guidance on how to reduce income tax for self-employed. Having served in the industry for more than a decade, we are well-versed in the field of helping clients reduce their income tax to the maximum within the legal means.