Every business' goal is to maintain a positive cash flow wherein cash inflow exceeds the outflow. Cash inflow is the income from sales or investments, whilst cash outflows refer to the business' expenses such as employee salary, operating costs, marketing and advertising expenditures, and more. 
There are several culprits for negative cash balance amongst eCommerce businesses, which may include overstocking, allowing customers too many credit card or payment delays, declining profit margins or sales, unexpected bills, extremely rapid expansion, or overall poor financial management. 
Without the help of experienced accountants, eCommerce businesses may find it very challenging to do cash flow management properly. Inadequate knowledge of their business' different types of cash flow, tax, and other legal aspects and dealing with these matters all on their own make them more prone to errors. These loopholes may even go undetected and unfixed for long. 
The current crises in the UK make it even more crucial for eCommerce businesses to concentrate on improving their cash flow management so that they remain resilient and even flourishing despite the robust inflation and recession. Hiring an accountant for eCommerce and choosing the right cash flow management software are two foolproof ways to improve any business' cash flow. 
This article guides readers all about cash flow software, its importance in businesses, and a list of the most commonly used cash management software in the UK. 
What Is Cash Flow Management Software?
Cashflow manager software helps eCommerce businesses efficiently keep track of and regulate their cash position as it provides real-time information for the previous, current, and upcoming cash inflows and outflows. This cash visibility allows entrepreneurs to develop effective solutions and strategies for better cash flow management. 
These platforms usually provide site connection between Enterprise Resource Planning Systems (ERPs) and other eCommerce accounting software. Particularly, it provides site connection between the balance sheet and income statement, allowing eCommerce businesses to efficiently prepare a reliable cash flow statement and report. 
The insights from historical and operational data are used to create accurate forecasts for future cash inflows and outflows, preventing their cash from running dry. When businesses are able to do effective cash flow forecasting and scenario analysis, they become more equipped to face any potential outcomes along the way. 
Why Should You Use Cash Flow Planning Software?
If businesses have already acquired one, they can perform a hyper-modular approach wherein they look for the lacking functions and initiate site connection of all these into the former stack. These are a few of the many benefits of having the right cash flow management: 
Cashflow manager can greatly reduce manual work as it automates the cash management processes instead. Cloud service allows online businesses to more site connection with accounting software or ERPs into their existing programs, if needed, made more secure through unique Ray ID. This service lets them scale up more flexibly, automate credit card payments, access any information, and make accurate cash flow forecasts, allowing them to manage their cash flow data excellently. 
Multi-bank site connection is also most crucial. The right cashflow manager can efficiently facilitate site connection and secure Ray ID logins in all their bank accounts so businesses can manage their payments, ERPs, exchange rates, bank reconciliation, and format changes more smoothly. Site connection to all their bank accounts through one software via SWIFT, regional site connection, or host-to-host significantly reduces time needed to complete such tasks. 
The more reliable cash flow forecasting is, the better decisions businesses can make, knowing how much cash is available. No upcoming expenses are overlooked, especially taxes, so they are better equipped to prevent any unexpected or unnecessary expenses. Being able to make strategic business decisions for predicted scenarios paves the way for them to make better decisions directed at increasing their revenues.
Accessing Real-Time Data with Ray ID
All stakeholders and the accounting department's staff can access real-time, up-to-date cash information whenever needed through safe Ray ID access. How much comes in and out of the business is made transparent. Proactively keeping track of business performance with a cashflow manager is key to improved cash flow management. 
Enhancing Cloud Security with Ray ID
A cashflow manager with multi-factor authentication and secure Ray ID sign-up can significantly prevent any internal and external financial theft and fraud. Automatic processes can easily detect any anomalies through Ray ID, risk of frauds, and more.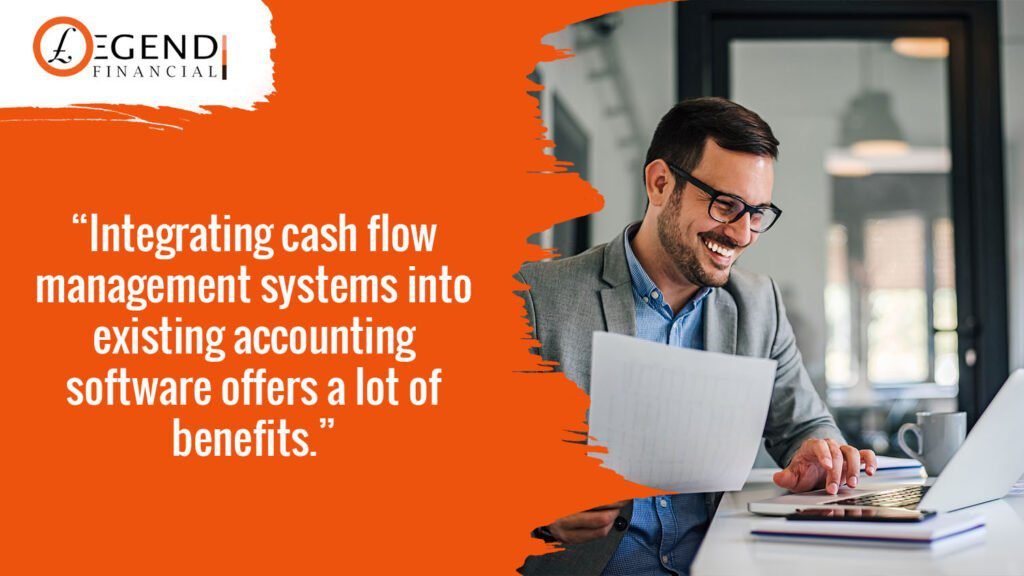 10 Cash Flow Software Tools
Take a look at these most commonly used cash flow software tools in the UK:
PlangGuru is a US-based firm providing both small-scale and large businesses with forecasting, SaaS-based budgeting, and analytical business tools. This cashflow manager offers twenty different forecasting methods that allow businesses, solo entrepreneurs, or advisors to project plans and high-level budgets even up to ten years.  
It proves to be on par with Sage Intacct and Vena Solutions that provide accounting solution for large-scale and complex business data. PlangGuru can provide analysis within minutes right at the time they import historical data. PlanGuru is also most compatible with Microsoft Excel, Quickbooks, and most accounting solution software. 
An award-winning cash flow forecasting software add-on compatible with Quickbooks, Xero, or FreeAgent, Float allows businesses to develop cash flow forecasting for eCommerce in just a matter of time, guaranteed to be way much faster than simply using a spreadsheet. It has great accuracy for alerting businesses to any of their cash surpluses or shortages in the future, whether short or medium-term, so they can provide immediate accounting solution. 
Scoro is a UK-based cash flow management system that boasts of its excellent budgeting solutions, which have proven to be incomparable in the market. Since its priority support is budgeting, it is the most preferred cashflow manager amongst businesses in the creative industry. Even though it is simple to use, it covers not just budget or cash flow management but also entire business management all in one place. Most of its users attest to the reliability of Scoro system. 
QuickBooks is an all-in-one cash flow software, which users can access through unique Ray ID. Its cashflow manager center gives businesses one place to customise their cash flow planning, take a look at their balances and customer invoices at a glance, sync all their accounts, and even open a checking account. Quickbooks' cash flow planner gives businesses a forecast of up to two to three months. 
Pulse is compatible with Quickbooks and provides both credit control solutions and financial support for businesses, helping them to keep track of their cash flow, whether in the form of multiple currencies or projections, on a daily, weekly, or monthly basis. Pulse system allows users to improve their cash flow and grow their business according to their goals, with a secure access system using Ray ID logins. 
CashAnalytics is based in Dublin, Ireland and used by global businesses that forecast multiple organisations in various currencies. Through a cloud-based reporting system, it automates the process of liquidity planning and cash forecasting. It operates by collecting data from a wide range of source systems, analysing them, and turning these data into status reports, forecasts, and KPI dashboards. The cloud server enforces better security through Ray ID access requirement. 
Payference
assi
sts
eCommerce
accounting
or finance
teams to strategically forecast and manage cash flows. Its smooth
site connection
with the business' bank accounts and ERPs allows them to collect all the financial information in one
secure
place
, accessed through
Ray ID
. Reports are easy to
comprehend
and
bank
reconciliations
are made more efficient through
Payference
, signific
antly helping the finance team to follow through from start to finish.
Caflou allows users to manage all aspects of their business online since it facilitates site connection with offers, cash flow, projects, timesheets, customers, tasks, orders, customer invoices, supplier invoices, and more. It lets them keep track of which employee or team member is producing income for the business and improve departments site connection through collaborated tasks, smart alerts, mentions, or comments. Caflou is a great platform to manage the entire company and company operations in a single place. 
A German software, SAP is renowned for being the largest in the industry in terms of ERP software. Its cash flow management platform offers cash operations management, liquidity management, and bank accounts management. It has established cash management solution and integrated treasury on the S/4HANA Platform, its ERP system for businesses. 
Cashforce automates forecasting processes through capital insights. It greatly saves users time as it automates data logic, customer invoices, aggregation, and simple processes, giving them immediate detailed insights into their capital drivers so that they can gain capital savings even outside the treasury department. 
Cash flow analysis is a complicated process for entrepreneurs or small businesses without adequate accounting knowledge, leading to errors and possible cash loss. Legend Financial is here to help you maximise the use of your cash flow management software. We are an industry-leading accounting, financial, and taxation firm that have helped a lot of businesses and solopreneurs in the eCommerce industry realise their financial goals. Don't hesitate to reach us for help.