A lot of limited companies in the UK prefer receiving their income through a combination of low salary payments and dividend as it is the most tax efficient way compared to obtaining them in full through salary payments. The main reason is that they don't have to pay National Insurance contributions (NICs) on their dividend income or income tax on investments if they are within the threshold. 
Because of its tax advantages, many ask this question: do you pay corporation tax on dividends or not? This article will answer just that as well as comprehensively cover what dividends are, who receives dividend payments, what taxes they pay for them, and how much dividend allowance is set for the previous and current tax years. 
Dividend is a payment that limited companies pay to their directors or shareholders after settling business costs and outstanding taxes, such as corporation tax and Value Added Tax (VAT), which may come either from retained or current year profit.
Retained profit refers to the amount that a company makes in the previous fiscal years. Generally, dividends as per tax rules are usually paid either quarterly or annually. However, if company directors decide not to distribute these accumulated profits as dividends at the end of the business' accounting year, the distribution schedule will vary and be at a later date.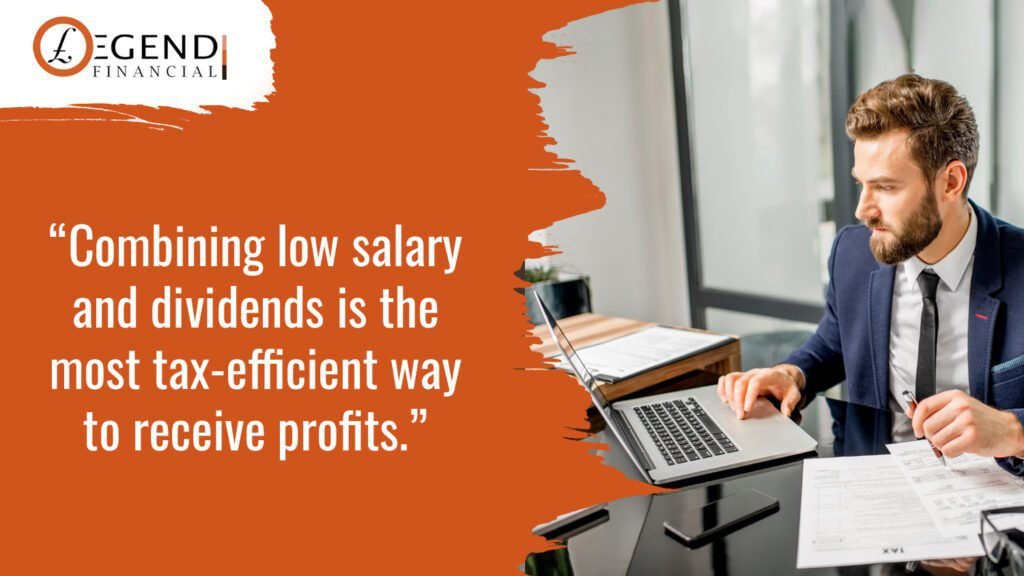 If the company makes no profit from the current fiscal year nor retained profits from the previous years, taking dividends payments should not be issued. Paying a dividend when the company makes insufficient profits is considered illegal in the UK. 
Dividends are paid according to the percentage of shares, but certain cases occur, such as directors or shareholders accidentally taking more than their share. The excessive amount is considered a director's loan and will have to be reimbursed.
Who Can Receive a Dividend Payment?
Limited companies distribute dividend payment to directors and shareholders according to the percentage they put in. This means if they own 50 per cent of shares in the company, they will also receive 50 per cent in each dividend distribution.
In the case of "one-person-band" companies, the only shareholder is the director of the company, which means the individual alone receives dividends when the profit the company makes is sufficient. The director/shareholder may also choose taking a salary and dividend payment ratio wherein they blend low salary payments and dividends to reduce their tax bills. 
Recipients of dividends are provided with a dividend voucher, which companies must also keep for company records. Dividend vouchers include the following details:
Date
Company name
Recipient's name
Dividend amount
Do You Pay Corporation Tax on Dividends?
Limited companies have to settle their self employed income tax rate liabilities first, such as corporation tax (at a basic rate tax of 20 per cent) and VAT, as well as other business expenses, such as salaries, accounting, or insurance bills, before they distribute dividend payments.
The net amount is worked out after having deducted these expenses from the gross profit. When all these are accounted for, the dividends can then be distributed. A dividend is a payment not considered as a business expense when calculating corporation tax and corporation tax on losses. 
Companies don't need to pay tax on the dividend payments they issue, but the recipients (board meeting directors or shareholders) do if they surpass the dividend allowance, which they will pay through self employment tax return, discussed further below. 
Since companies pay tax on their gross profits before distributing the dividends, recipients are considered as having paid their taxes already, which is also called a tax credit. What gives dividends tax advantages, even if corporation tax has to be paid first, is that recipients enjoy the state benefits of not being subject to National Insurance contributions
Dividend recipients pay dividend tax when they surpass the personal allowance set for that tax year, which gives them a great tax advantage. From the tax years 2017/18 to 2022/23, the dividend threshold is £2,000, which means they don't need to pay tax if they earn less than this amount within the tax year, also called tax free dividend. 
For shares that come from an ISA, dividends are tax-free all the time, regardless of the shareholders' annual profits. Take a look at the previous and current fiscal years' set dividend allowance:
| Tax Years | Dividend Personal Allowance |
| --- | --- |
| | |
| | |
Once the dividend shares exceed the annual personal allowance, shareholders will have to pay certain tax rates depending on which band they belong to. Take note that dividend tax rates are based on the shareholders' overall profits from all resources. 
Whether the shareholder receives dividends from their own limited company or another company that they contributed shares in, their dividend taxes rates for 2022/23 tax year will be as follows:
| Tax Band | Annual Profit | Tax Rate |
| --- | --- | --- |
| | | |
| | | |
| | | |
Directors or shareholders who receive income through low salaries and dividends will have to pay income tax on their salary. The current tax rules for the rate tax of income for the 2022/23 tax year are as follows: 
| Tax Band | Annual Profit | Tax Rate |
| --- | --- | --- |
| | | |
| | | |
| | | |
Do you pay corporation tax on dividends? Limited companies do, as well as pay other business expenses before they can issue dividend payments. Taxes on dividends can be really complicated, more so deciding how much shareholders should receive as salary payments and dividend and the frequency of receiving dividend payments, both of which can greatly impact the amount of tax they pay. 
Legend Financial is here to help companies and shareholders settle their dividend payments and taxes, respectively. We have been helping a lot of clients for more than a decade to better understand their tax liabilities, comply with the tax rules properly, and reduce their dues in legal ways, on a daily basis. Reach us today for help with your taxes.